things that occupy my mind when I really should be practicing the bass
I don't know where it originated, but have you ever seen the shorthand where the names of a couple are combined to form a single name, i.e., "Spuffy" and (ugh!)"Bennifer"?
It's actually very handy, and sometimes it just works. "TriNeo" "Robecca", even?
I believe it was Joelle that dubbed Fran and Wendy - "Frendy", which is so damn cute you can almost see the little bluebirds flying around it.
Sometimes you have to have to try a few combinations out.
"Jjaddie" is pretty lame, but "Fraks" kinda works.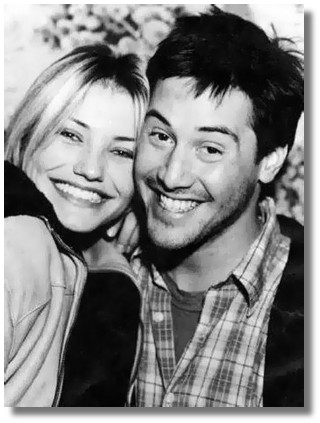 As far as Keanu and I are concerned, I think "Keanix" sounds like a programming language, but "Krianu".....gosh, that just rolls right off the tongue, doesn't it?
So, if you and Keanu were so cute a couple that you went by one name, what would it be?
it wahs | from inside the mind of krix at January 31, 2004 01:03 PM .