playing bass is hard! errr, fun!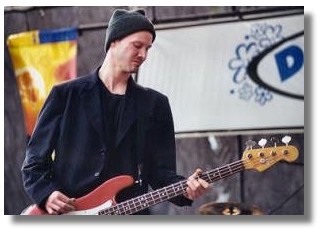 So, I had my first bass lesson last night and the first thing Cliff (my teacher) did was take away my pick.
Then I got quizzed on what theory I remembered (I knew my dotted quarter notes, sharps, flats, etc. eighth rests threw me) went over what notes are in various chords and tried miserably to "play a B, now where else can you play it?, now where else?, now where else?" I have 4 songs (Little Wing, Kids are Alright and a couple others that you'd laugh at) for homework and have to work on my major scale fingering and excercise/stretch my left hand while getting my fingers walking on my right.
Oh and fifths. Sounds intimidating, actually easy.
Tonight I'm going to try and get through a whole vibemerchant practice without the pick, wish me luck.
Hee.
I love this.
it wahs | from inside the mind of krix at January 22, 2004 12:29 PM .