it's really easy to mistype 'martial arts' as 'marital arts'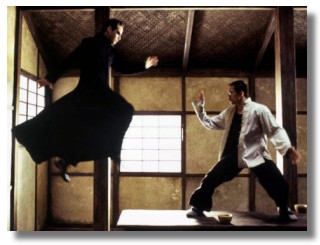 Thank you
Ale
, for this link to an
interview with Collin Chou at kungfucinema.com
where he speaks about Keanu's martial arts abilities...
"What was it like shooting with Keanu Reeves? That was a great fight you both had in the Tea House."

Collin Chou: Yuen wo-ping did a great job on the fights, along with his team. I was very impressed with Keanu Reeves' work attitude. He only trained for half a year to prepare for his part in the Matrix sequels. From watching the movies, you can see that he has attained such skills that are equal to many martial artist who have been training since childhood. You can imagine if Keanu had started his martial arts training when he was a child, his abilities would surpass many of the martial artists of today.
-Read the whole interview at KungFuCinema.com

red pill | from inside the mind of krix at January 22, 2004 11:37 AM .