I assure you that I needed it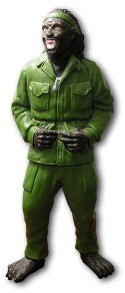 It's been a while since I've shared a ridiculous recockulous* eBay purchase on the blog. Mostly because I've been very good and haven't really made any. Ok, but not that many.

Shut up.

How could I pass up a nine inch Ortiz the Dogboy? Evidently, no one else wanted the Guevarian mongrel and if I hadn't bid he would have gone to the pound. I figure he'll only increase in value once Freaked comes out on DVD.

Also, I need something to take my mind off the fact that Wee Neo has apparently gotten a touch of wanderlust since Seattle and last I saw of him he was mumbling something about passport photos and frequent flyer miles. Who better than a hybrid of man's best friend and a sex god?

OK, I just really wanted the doll.

*We strive to be on the linguistic cutting edge here at keanuvision.

it wahs | from inside the mind of krix at January 17, 2004 10:40 AM .