'I'll have what she's having'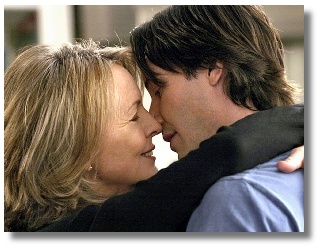 Thanks to Nadia for sending me the link to this article, Her Keaton Heart at the daily news. Excerpt below:


Q: Jack isn't the only one you make out with in the movie. You also have some pretty passionate scenes with Keanu Reeves ...

A: Stop. (Laughs) Just stop. That was embarrassing. I mean, it was fun in the moment, but when you're done you just think, "This is absurd."

Q: He was very convincing in conveying his character's love for you.

A: He's a good actor, see? People underestimate Keanu.

Q: But maybe it wasn't all that hard for him to act that way ...

A: Oh shut up, man! (Laughing) You're making fun of me now and I know it!

Q: Not at all. Not at all. So, the lesson we've learned today is that love makes the world go around, and if it involves hopping into bed with Jack Nicholson or swapping spit with Keanu Reeves, so much the better.

A: Absolutely. I think love can be like that. Why not? Why can't it be? It's really all about a point of view, you know.
cinema | from inside the mind of krix at December 14, 2003 10:14 AM .