You say Tomato....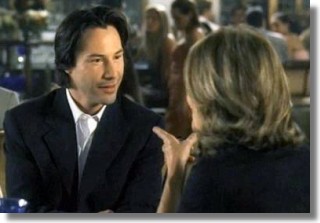 RottenTomatoes.com is a good one-stop shopping destination for movie reviews, including the latest on Something's Gotta Give, which is currently enjoying a nice freshness rating of 73%, and definitely more juicy tomato icons than splats.
But to hell with reviews, did you see it today? What did you think?
Not just of Keanu but the whole film?
I really went in expecting not to like it but was pleasantly suprised. It wasn't perfect but there were enough laugh-out-loud scenes in it to be worth the ticket. And I have to say again, that Diane Keaton is brilliant and hilarious.
And you already know how I feel about Keanu's performance.
cinema | from inside the mind of krix at December 12, 2003 03:55 PM .