Ok, I like this film....
But I'm officially sick of the commercials.
Has everyone already been to a matinee showing of Something's Gotta Give, yet? I'm actually going to have to wait until tomorrow to see it, since we're jamming tonight. (Roi and Dave are making me sing Nico songs. It's quite amusing.)
Anyway, I'm going to take my mom to a matinee tomorrow. She'll love it.
Speaking of love, who else felll completely in love with him again on Leno last night? (I was almost late for work this morning, rewatching the tape) I think my favorite moment is him saying "Am I a grown-up?" right after running his hand through his hair and making it stick up, looking like the glorious goofball he is.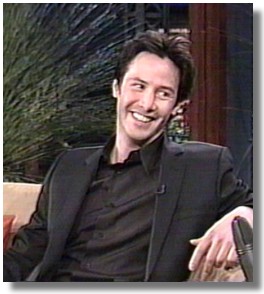 That smile melts me, and my god, he's funny.
Club-Keanu has a transcript of the interview up and will likely have more captures soon, as well.
And congrats to Chicks and the Club on having over 1000 registered members! \m/
That a lot of Keanu-luv :)

it wahs | from inside the mind of krix at December 12, 2003 12:06 PM .