I can't believe I actually made it to the 15th of the month before hearing the word "Rocktober"
So, it's now ten days until Halloween and what better costume than a Keanu character? I'm sure there will be all sorts of Neos, Agents and Trinities running around this year, so if you want to stand out from the crowd, go for the classics.
I recommend checking out BillandTed.org's How To section on Bill and Ted costumes.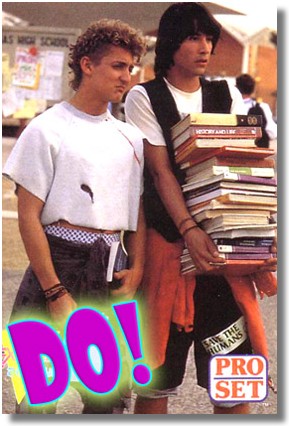 DO



Follow B&T dot org's advice, especially regarding details

talk your friend into being Bill. Otherwise, if they resemble Keanu a bit too much, there may be a drunken situation on the cab ride home that neither of you can ever speak of again....unless you're into that sort of thing.

Rewatch either Excellent Adventure or Bogus Journey and pick up some mannerisms. That's what will really sell it.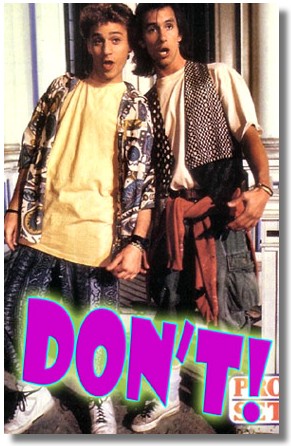 DON'T



Wear bold prints, especially on your pants

...or a checkered vest. EVER.

Open your mouth like this...again, EVER.

And of course, the biggest do's :

Have Fun!

And take pictures and send them to me!

it wahs | from inside the mind of krix at October 21, 2003 12:36 PM .