Wired for the Revolution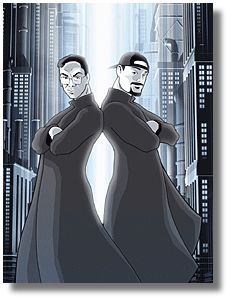 "Warner Bros. retained control of the casting. For the pivotal role of Neo, the studio decided on Keanu Reeves. (Also seriously considered: Kevin Costner.) Reeves had done poorly with Johnny Mnemonic, but the studio was high on his demographic appeal. The brothers were skeptical. "They were like, 'Keanu Reeves? Bill & Ted's Excellent Adventure? Can he do what we need?'" one friend recalls. "Now they feel so grateful they have him." The Matrix went on to generate more than $440 million in worldwide ticket sales."
Wired has two Matrix articles - The Matrix Revelations: an interesting look at the enigmatic Wachowski Brothers, and Entertainment Beyond The Matrix, in which Xeni Jardin talks to John Gaeta about virtual life, the Matrix universe and everything.

WN: How much will the new film feel like Reloaded?

Gaeta: Not much. The Matrix is a three-act play: What began underground concludes in Revolutions on the Earth's surface, in Revelations-like fashion. In the first film, we learned that people are trapped in a prison devised by machines. In Reloaded, we learn about the power architecture in that world, and discover what (Keanu Reeves' character) Neo must do to become a savior, a messiah -- to interrupt the mental slavery of that world's inhabitants. But along the way, we learn that it's not just up to Neo -- freedom is a personal choice each of them has to make.
J. sent me this article on the lack of advertising/product tie-ins for Revolutions.
I'm actually glad. The powerade was yummy, but all the crap for Reloaded was a bit much. And Samsung? It wasn't bad timing...Two Words. Ugly. Phone.
I'm avoiding bunches of other articles along with the new TV spots that are up at the Official Site.
There may or may not be spoilers lurking around every bend.
Why chance it?
I figure I've got only two more weeks to wait, I can make it.
Oh, and Six Days 'til the LA premiere, and I've officially scribbled Joel's name out of my notebook in case you're wondering.
(That's OK, I didn't wanna go to some high falutin' gotta-buy-new-shoes and wear cleavage enhancements and sunglasses at night Hollywood shindig anyhow. I'll just hang wit' my peeps on da 5th, wit' a fifth, yo.
I'm krixy from the block, dawg.)
red pill | from inside the mind of krix at October 21, 2003 03:33 PM .