Pics, news, general swoonery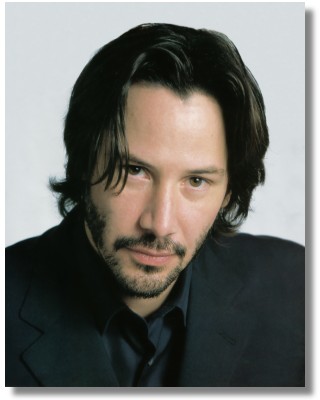 I used to prefer my Keanu clean shaven but I have come to appreciate the scruffy bearded look as well. Especially with the hair this length.
*swoon*
ahem....anyway, if you want to check out some pictures of Reeves in all his scruffy goodness from the most recent becky shows you can see Jen's at the Yahoo Group KeanuA-Z and also I believe there are some at a place called Casa Feliz' Darkroom. Registration required for both, but surely worth it.
In movie news, ComingSoon.net has a little bit on Thumbsucker from Variety:


Bull's Eye Entertainment will finance and produce the dark coming-of-age comedy "Thumbsucker," with Matthew McConaughey and Vincent D'Onofrio added to an ensemble cast that includes Keanu Reeves and Tilda Swinton.
Set for a July 9 start in Beaverton, Ore., Mike Mills will make his feature-helming bow with the adaptation of Walter Kirn's novel.

Scripted by Mills, "Thumbsucker" is the story of an anxious teen with a serious thumb-sucking habit. In desperation, he turns to the only sensible people he knows: an orthodontist (Reeves) and a high school debate coach (McConaughey).

Anthony Bregman of This Is That and Bob Stephenson of Cinema-Go-Go produce the pic. Exec producers are This Is That's Ted Hope and Anne Carey, along with Bob Yari and Cathy Schulman of Bull's Eye. Jay Shapiro of Cinema-Go-Go will co-exec produce.
I guess Elijah Wood is no longer cast in the title role in Thumbsucker. Maybe they should give it to that Culkin kid or maybe the guy from Almost Famous. (Can you tell I don't pay attention to any other actors?)
And I guess Keanu is back east, still working on the "Just how freaking hard is it to name a movie anyway?" Untitled Nancy Meyers "Christmas Project".
I actually had to go to Liz Smith for this little bit of info:

OH, YES, they're having a hot time in the Hamptons. Jack Nicholson, Diane Keaton, Keanu Reeves and Amanda Peet have been filming the much-talked-about Nancy Meyers' "Christmas project" - that is, a movie with no title yet. These biggies rented houses in the Hamptons, and they filmed all over the place, including the mansions on Meadow Lane.

Now the stars are in Manhattan briefly before going to Paris. Nancy dreamed up this Christmastime project for Columbia after being divorced from her director-husband, Chuck Shyer, some years back. She'd rented a house in Sagaponack to recuperate and had an idea about an ad guy, 63, dating a young beauty, 29. She takes him home to mother, 55, on Long Island. A stint in the Southampton hospital brings them all together with a handsome doctor, 30.

Guess what happens next? Some people call this "The Older Woman's Revenge," but I'm sure they'll think of something better to name it for the marquee. Meyers' credits include "What Women Want," "Private Benjamin," "Father of the Bride" and comedies of that ilk.
The more I hear about this movie, the less I want to see it.
Oh, and as far as some other gossipy stuff related to this one, all I have to say is...the man's got to eat, eh?
Lastly, because god knows every comic-based "superhero" movie that's been completely re-tooled by Hollywood needs a romantic subplot, Constantine is still looking to cast the role of Angela, a female cop.
I'd audition but badges and navy blue make my ass look huge.
cinema , it wahs | from inside the mind of krix at June 16, 2003 11:44 AM .