Keanu Reeves Naked. Or not.
Oh, joy.
Guess who is the #1 result in the search for "Keanu Reeves Naked"?
Yep. That would be me.
For all my attempts at cleverness and eloquence....it's Keanu Reeves Naked that brings them to my doorstep.
But wait! It's because of this article.
Man, do I get the hits on that page. I get the exit stats, too. Basically, most people get there, realize that there are no filthy pictures and move on in their search for naked-er pastures.
MOST people...not all, and that gives me hope. I hope that the eight people out of 187 that didn't click that "X" actually read the Sky Magazine article in that post. It's a good one.
And I hope that they maybe poked around the site a bit more and gleaned a greater appreciation for Keanu Reeves, Naked or not.
Here's a little tip for those of the quest for some Reevesian Nudeness:
As far as I know, the only real naked pictures of Keanu would be the famous ones taken by Greg Gorman. Nice ones, too. Nothing full frontal.
Tasteful.
Artistic.
Definitely sexy.
Now, I've *cough* heard of some more revealing pictures, alledgedly of Keanu and it's *ahem* possible I may have even seen one (though no fault of my own....I swear they just showed up in my inbox....really) But I assure you, it's a fake.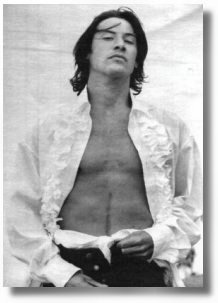 No, I'm not going to show it to you. Haven't you been listening?
I swear, it's like I don't know who you are anymore.
There's no naked Keanu here.
Broaden your perspective of appreciation or go away.
spoony | from inside the mind of krix at December 03, 2002 09:28 AM .