Starring Keanu Reeves naked
(but we really love his mind)
...That was the tag line for the cover story of Sky Magazine's 1993 interview with Keanu.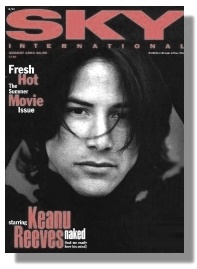 On a cool grey Los Angeles morning, Keanu Reeves throttles up the street on his red vintage Norton motorcycle, dressed in aging jeans, wine coloured shirt, leather jacket and hiking boots. He removes his scarred black helmet and shakes loose his long dark hair. Smiling, he extends his hand and settles onto a white canvas couch.
Reeves first grabbed the attention of audiences and film critics in 1987, for his role in Tim Hunter's disturbing real-life murder story, River's Edge. Starring alongside Crispin Glover, Dennis Hopper, and Ione Skye, it was Reeves (with Skye) whose character alters the final outcome of the film. River's Edge remains a popular cult movie to this day, and It's not surprising that Reeves is still proud of it.
Since that time, Reeves has titillated women (no other actor elicits more heated moans at the mere mention of his name) and the critics alike by offering moviegoers a myriad of roles. "I want to fall into all categories -- and no categories!" he says. "That makes it the most fun."
He's played a rich teenager in Brotherhood of Justice (1986); an offbeat high-school senior on a prom date in The Night Before (1988); the best friend of a teenager who commits suicide in Permanent Record (1988); a goofy time-traveler named Theodore Logan III (Ted) in Bill and Ted's Excellent Adventure (1989); an 18th-century courtier in Dangerous Liaisons (1989); a troubled teenager in Parenthood (1989); a reprise of Ted Logan (who this time goes to heaven and hell) in Bill and Ted's Bogus Journey (1991); a stoned-out hitman in I Love You To Death (1990); a young sports-writer in Aunt Julia and the Scriptwriter (1990); a surfing FBI agent in Point Break (1991); a troubled, bisexual hustler and son of the city's mayor in My Own Private Idaho (1991); and the dashing Jonathan Harker in Bram Stoker's Dracula (1992).
I suggest to him that the trend among audiences today seems to be that people go to the movies to learn a lesson, which was the original idea behind movies, rather than simply for entertainment. "I think there should be both," suggests Reeves, adjusting himself on the couch. "If it's going to be entertainment, then keep it entertainment. A film like A Few Good Men was very confusing. It was almost asking for both. It was trying to ask a question, and be sociopolitical, and be entertaining. I don't like that. But I like it sometimes, like, when it's total-Henry-Rollins-in-your-face. 'Truth, man!' We need that, because it's inspirational."
Keanu Reeves appears this month in the role of Don John, the half-brother of Don Pedro (Denzel Washington), in Kenneth Branagh's new film of Shakespeare's Much Ado About Nothing. Although obviously one brother is black and the other white, Branagh felt it really didn't matter. He chose Reeves for the film because he wanted a cast who made interesting choices in their acting careers. "I wanted actors who seemed to have an appetite for doing different types of work," says Branagh. "What I like about the best American films acting is when it's emotionally fearless -- full-bodied and gutsy. That's what Shakespeare demands, and I think that American film actors have that. I've certainly seen it. I've also seen a truthfulness in Keanu's work. When I met him, he was someone I admired for his sort of curiosity and enthusiasm.
"He's also a tremendously passionate creature," Branagh continues, "and he cares a great deal. He will do two things [while working]: one, he'll go along with you. For instance, he would go with my way of working -- he rehearsed the way I wanted to rehearse, he learned it in advance the way I wanted him to do so. He would also fight for his own choices of the way he wanted to do it. I remember him wanting an extra take here or there. I was impressed that he was as disciplined as he was. I don't want to sound so cosy about the whole thing," Branagh chuckles, "but I was genuinely impressed by what I thought was a very grown-up individual who was utterly serious about his profession."
According to the background information on Much Ado About Nothing, the Villa Vignamaggio (midway between Florence and Sienna, where the movie was shot) was once the home of the Gherandini family, who had commissioned a portrait of their daughters sometime around 1503 by Leonardo Da Vinci. The daughter, who later became better known by her married name, La Gioconda, is today more commonly referred to by her given name: Mona Lisa.
"Supposedly," laughs Reeves, running his hands through his dangling hair. "That's what they say -- that the Mona Lisa was painted in that villa. It's one of those things like 'Elvis was here.' I'm finding out in Los Angeles that every big house it's like 'Charlie Chaplin lived here; Errol Flynn lived here.' But this one seems to have a strong presence. The villa is very impressive. It's on top of a hill overlooking a valley. It's one of the largest chateaus in the area.
The films ongoing theme of eating, drinking, parties and sex would be any modern-day man or woman's idea of heaven. "It's the way of the kings or royalty lived," says Reeves. "The Italians know how to live -- how to drink -- the art, and life! La Dolce Vita! There's no French existentialism or deconstruction, or American angst. The Italians are like, 'Whatever. Michaelangelo, cool.' I went to Florence a couple of times and I got to see the David. It was very cool. I was there for five weeks, and it was a very enchanted summer."
Performing Shakespeare is not new to Reeves: he has also performed the role of Trinculo alongside Andre Grefory's Prospero in the Shakespeare & Company's production of The Tempest, in Lenox, Massachusetts. Aside from the fact that is was Shakespeare, Reeves chose the role in Much Ado in order to work with Kenneth Branagh. "Branagh is a very exuberant, intelligent, witty man, and he's driven," says Reeves. "His drive and energy is remarkable. And the more I read the play, the more I enjoyed it."
"I love it. I love the soliloquies. I read Shakespeare and I love to speak it. I love acting Shakespeare, and it was Don John. And what was it he says?" Reeves begins to reenact his role in the film under his breath, before coming out with the favoured line, at which point he comes to life: "'In this, though I may not be a flattering honest man, it must not be denied that I am a plain-dealing villain'! I love that: 'I am a plain-dealing villain'."
One of the accouterments of being an actor is traveling to exotic locations to film, and Keanu Reeves has had his share of traveling -- one of his favourite parts of the business. "Traveling is, ahh," he sighs, throwing his arms up in the air. "I've been to Katmandu, Paris, London, Italy, Munich and Bhutan." Bhutan, a remote and secretive kingdom hidden in the Himalayas, was the site chosen by Bernardo Bertolucci for the location of his latest production, Little Buddha, which stars Reeves.
"Aah, Bhutan," smiles Reeves, "the snowy mountain. Two hundred and fifty dollars a day! No, Dharma bums, thank you. It's very primitive and it feels like ancient air. You almost expect to see some kind of dinosaur peek out from behind a tree. When they're in public, the Bhutanese have to wear traditional clothing, but at home, in private, they're allowed to wear western clothing. I met some of the kids who'd wear jeans, sneakers and T-shirts underneath their traditional clothing. They are beautiful people; they were very kind to me. And there is one aeroplane there -- Druk Air. The king wants to protect his country so there is no television but they have VCRs.
"I play Prince Siddartha in the movie," Reeves continues, "who, after the Enlightenment, is referred to as Buddha. But I only go halfway through the Enlightenment; there is no depiction of Buddha. I'm post-Enlightenment.
Possibly it's Reeves' enlightenment that directors see: he has been directed by Francis Ford Coppola, Kenneth Branagh, Bernard Bertolucci, Ron Howard, Lawrence Kasdan and Gus Van Sant, to name a few. "How much of an actors success is luck?" I ask. "Oh, I don't know the answer to that at all!" he moans, pulling his dark hair away from his face. "I don't! It's a lot of things. It's being in the right place at the right time. Karma, who you know, who you don't know, what you've done lately. Anything and everything. I don't know!"
Reeves recently completed a small role in Gus Van Sant's new film based on Tom Robbins' book, Even Cowgirls Get The Blues -- "A cameo-cowgirl-cameo," he says, laughing. Due out later this autumn, Cowgirls is the story of Sissy Hankshaw (Uma Thurman), the worlds greatest hitchhiker. During her travels, she continues her lucrative career as a spokesmodel for a line of women's hygiene products made by an effeminate entrepreneur known as the Countess (played by John Hurt) and meets -- and almost marries -- an asthmatic Mohawk Indian named Julian Gitche (Reeves). Produced by Laurie Parker, the film also stars Rain Phoenix, Angie Dickenson, Crispin Glover and Roseanne Arnold.
This is Keanu Reeves' second film (After My Own Private Idaho) with director Gus Van Sant. In that much-talked-about film, Reeves portrayed Scott Favor, alongside River Phoenix, James Russo, and Red Hot Chili Peppers bassist Flea. Set in Portland Oregon, it was the story of a group of street hustlers, but concentrated on the relationship between Reeves and Phoenix, in which Phoenix's narcoleptic character was secretly in love with Reeves.
Keanu Reeves describes Van Sant as "soft-spoken, creative in the sense of ideas of what to do. He's got a really good sense of humour -- and when I say that, it's not a really aggressive, loud kind of 'Har, har, har!' But his humour is human stories. He's very respectful and he sets up an environment that feels very creative. He wants you to play and cultivate a situation. You can do anything -- even where you're not supposed to do something. It's an invitation to play. It's remarkable."
In Francis Ford Coppola's Bram Stoker's Dracula, adapted by Hook screenwriter James V Hart from Stoker's 1897 novel, Reeves played the innocent young Jonathan Harker, who is forced to fight the forces of Gary Oldman's Dracula for the love of Mina, played by Winona Ryder. In an all-star cast, Coppola followed an artist's story-board, along with approximately 1,000 photographs, to bring the lusty horror film alive.
"From Coppola I got to witness a creative, industrious life," says Reeves.
"He's a man of many, many ideas and man who can enjoy the simple things in life. He creates things; he has ideas. He has plates made for his houses, you know what I mean? I know that is a very silly thing to say, but he loves the simple things in life, sitting, family, eating. But he also takes ideas and builds them, makes them. Oh gosh, Francis -- I can't pay him enough due. A simple example would be," continues Reeves, as he leans into the recorder -- "I hope you don't mind me saying this, Francis, but he has a place in Belize. He saw an article in the New York Times, I believe in '85, about this country that had gained it's independence and said: 'Hmmm, I'm going to go there and see what's happening.' He found a way, although it was very difficult to get there. He went there, and through dealing with the government and the people, he found this old hotel, and worked out a situation with the people there. Now he's helping them link up with making a museum. He wants to develop educational systems there. And he also has this groovy estate there. But that's how he is -- looking, searching, finding, building, creating, living. He throws down a gauntlet with a challenge of almost life or death in a sense. He sets up a creative situation where you can explore. He's forever writing and writing. When you work with him, it's like: 'OK, do it like the script. Now, improvise.' He really pushes." But while Reeves might love to act it's the trappings of publicity and stardom he doesn't particularly enjoy.
"The part of that which is un-enjoyable is sometimes the forum and the questions are out of balance," he says "In the sense that if it's a more popular magazine, the interviewer will ask you something like, 'why did you want to become an actor?' and I feel that there is an expectation. There's no real respect in the listening, or in the conversation that you're speaking about. That's frustrating. I generally don't like to talk to strangers about myself in an open forum -- about personal things. I'm very happy to speak about what happened, generally, in what I did, felt and saw in my work. Outside that parameter I'm not very public. I'm also a fairly awkward speaker."
What are some of the favourite dumb questions? "So, what kind of girls do you like? What's your dream date?" Reeves laughs. "In the early days I got questions like that. Hello? Is anybody out there?" And being photographed? "It depends on the day," he replies, looking a little restless. "What kind of photograph, how I'm feelin'. Greg Gorman [who shot these pictures] wants you to feel comfortable, so he directs a lot of attention on that. He sets up a situation that's very easy to be in. If you're feeling self-conscious or uncomfortable, he tries to make it so that you're not. He'll make it work for you."
When he's not working, which is a rarity these days, Reeves does "as much as I possibly can -- and nothing. The past year was pretty intense, but I've been off work now for two or three months. There's always a transition. You finish, and classically what's happened to me in the last couple of years is that I've finished a project, and all of a sudden I come out on the other side, look around me and I'm a little bewildered and in wonder of it all. The second day after I finish work I'm full of angst, and the classic feeling of 'I'm never going to work again.' That usually lasts for a month, and after that, I sit down and enjoy the days."
Interview: Jim Turner
Photographs: Greg Gorman
media spot | from inside the mind of krix at July 21, 2002 11:19 AM .