dude-a-licious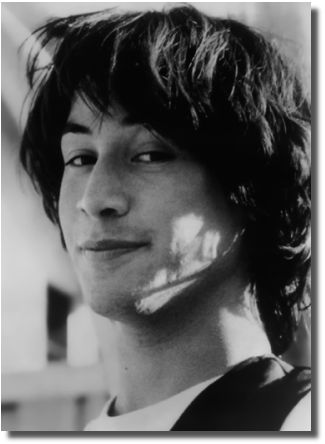 We Keanuphiles already have embraced the "dude" in more ways than one. The word is such a part of our lexicon, I never give it a second thought when I use it. Of course, I also use the term "rad" in a non-ironic way sometimes, too.
Much to Roi's dismay.
Anyway, "dude" is more than just slang, more than a referential, more than a term of endearment (or lack thereof).
Dude is an attitude.
Dude is a way of life
JSONLINE/ (AP) -- Dude, you've got to read this. A linguist from the University of Pittsburgh has published a scholarly paper deconstructing and deciphering the word "dude," contending it is much more than a catchall for lazy, inarticulate surfers, skaters, slackers and teenagers.

An admitted dude-user during his college years, Scott Kiesling said the four-letter word has many uses: in greetings ("What's up, dude?"); as an exclamation ("Whoa, Dude!"); commiseration ("Dude, I'm so sorry."); to one-up someone ("That's so lame, dude."); as well as agreement, surprise and disgust ("Dude.").
The link to the paper (which cites the most excellent billandted.org as a reference)is really interesting and includes all kinds of interesting "dude" data, including a huge spreadsheet listing the sujects, the addressees and the actual "utterances. I think my favorite is:
Dude, that is a lot of pie
And delving further into the subject, here's a NY Observer story that rightfully includes Bill and Ted as "Demigods of Dude".
it wahs | from inside the mind of krix at December 09, 2004 12:55 PM .