new becky show announced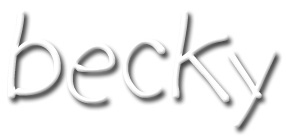 Thanks to Janice for this news from the official site...

"becky" is pleased to officially announce an upcoming show in the Los Angeles area. Next Thursday (the 9th of December) "becky" will play The Roxy (once again) at 9:45pm. Once again we are asking for all of your support and are hopeful that those who were not able to attend last time will make it next week.

Hope to see you there!

- becky
becky | from inside the mind of krix at December 02, 2004 11:36 AM .