Sunsucker at Thumbdance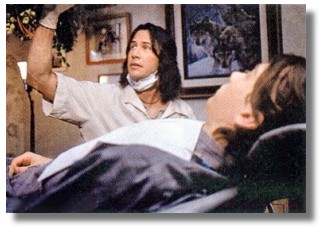 Mike Mills' Thumbsucker has been confirmed to debut at The Sundance Film Festival this January.
To refresh your memory, Thumbsucker is based on the Harold Kirn novel by the same name and will star Lou Taylor Pucci as Justin Cobb, a teenage boy with an oral fixation.
Keanu will play his unconventional orthodontist, Dr. Perry Lyman.
The movie also stars Vincent D'Onofrio, Tilda Swinton and Vince Vaughn.
You can visit Sundance.org for information on pre-registering for tickets for individual screenings. I gather that it's going to be nearly impossible to swing a pass for any of the premieres.
I have a family thing on the 23rd, but I'm going to try and make it up there to see my wonderful friend Tess and to attend at least a showing of this film, even if I can't swing the premiere screening.
cinema | from inside the mind of krix at November 30, 2004 11:57 AM .