Suck on this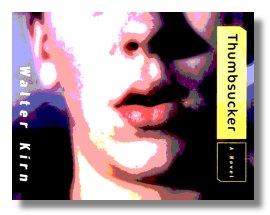 I finished reading Thumbsucker, by Walter Kirn yesterday.
Funny how I get all freaky about avoiding spoilers for The Matrix films, but I go out and buy a book because Keanu is doing the movie. I did it with Hardball, too.
Anyway...
I read about 60% of the book the first night I picked it up, another good chunk the second night and then it took me a week to get through the last 30 pages. Maybe I was just sleepy.
It's a good book. The focus on the "oral fixation" isn't what I expected, in fact about a third of the way through the book, you kind of forget why this kid, Justin Cobb, is doing the things he does to fill the void. The things he does all sound pretty normal to me.....maybe I had a fucked-up childhood and don't realize it.
*shrug*
So anyway, it's not a bad book, really. I imagine it will make a good screenplay. I mean, I'd bet a lot of stories look pretty lame on paper, but make a good movie, right? I was discussing it with a friend and she pointed out that since the concept is a bit unique, as long as it has some well written dialogue, it should be a good film. It will be interesting to see what parts of the book make it into the movie.
I don't want to give too much away.
I figure the part the Keanu will play will be the dentist that hypnotizes Justin in order to break him of his habit, Perry Lyman.
He's a crucial character, though not a major one, if that makes any sense. And he goes through some changes himself during the course of the story.
He's interesting and I'm sure that Keanu will play him well. Plus, his voice is so naturally hypnotic that those scenes are bound to be quite....um....intense? Something.

cinema | from inside the mind of krix at January 02, 2003 12:57 PM .