Constantidbits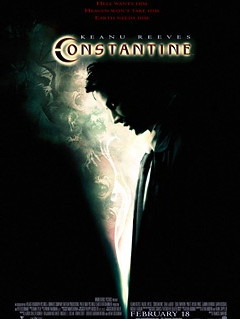 I'm a little under the weather so big thanks to Ale for gathering this batch of Constantine news...
Above is a look at the official Constantine movie poster, via MTV. The lads at STH are working on a larger look so that the tagline can be read. The image is identical to those that will be used on the upcoming graphic novels.
Assorted other reviews of a recent screening can be found at Superhero Hype, IMDB, and AICN. SERIOUS SPOILER WARNINGS apply and yes, apparently some of them put the ass in 'assorted'. I haven't actually read them.
Thanks again to Ale for those links.
If anyone needs me, I'll be over here working on my Constantine impression by coughing up a lung.
UPDATE:Click here for a larger version of the poster in which the tagline..

Hell wants him.
Heaven won't take him.
Earth needs him.
...can be seen.
-from About.com via KeanuWeb
constantine | from inside the mind of krix at November 19, 2004 12:33 PM .