Constantine: The Official Movie Adaptation graphic novels announced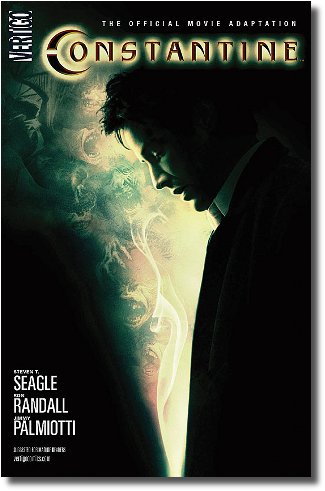 Vertigo publishing announces CONSTANTINE: THE OFFICIAL MOVIE ADAPTATION Written by Steven T. Seagle - Art and cover by Ron Randall & Jimmy Palmiotti

"John Constantine is a man who has literally been to hell and back in the Warner Bros. Pictures film Constantine, a supernatural thriller based on the long-running hit DC Comics/VERTIGO HELLBLAZER graphic novels. When Constantine teams up with skeptical policewoman Angela Dodson to solve the mysterious suicide of her twin sister, their investigation takes them through the world of demons and angels that exists just beneath the landscape of contemporary Los Angeles. Caught in a catastrophic series of otherworldly events, the two become inextricably involved and seek to find their own peace at whatever cost."
The 64 page graphic novel will go on sale January 5, 2005 for $6.95. It will also be included in the larger CONSTANTINE: THE HELLBLAZER COLLECTION, which collects the official 64-page VERTIGO adaptation of the film along with three classic issues of JOHN CONSTANTINE: HELLBLAZER. Included are issue #11, which kicked off VERTIGO's longest-running series and set the tone for the character; #27, which brought SANDMAN creator Neil Gaiman and his longtime artistic collaborator Dave McKean to the title with a haunting story of fear and loneliness; and #41, which opens the "Dangerous Habits" storyline with Constantine discovering that he has lung cancer in "The Beginning of the End." This 168 page collection is also on sale January 5 at a price of $14.95 and is suggested for mature readers.
-Thanks to John McMahon

constantine | from inside the mind of krix at October 19, 2004 12:54 PM .