in his stars and houses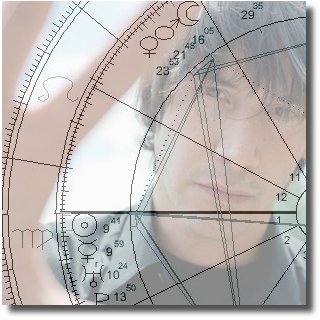 Tabitha has done Keanu's Natal chart.
From the page: "I don't have Mr. Reeves' actual time of birth, so I ran a chart with his Sun on the Ascendant (called a solar chart). For that reason, I will not be including an interpretation of house positions."
It's a very well written interpretation and shows both her knowledge of the art and her love for the subject.
Virgo is the sixth sign of the zodiac and is an Earth sign ruled by the planet Mercury. Virgos are known for being practical, down-to-earth, perfectionist, critical, and helpful. They are flexible and good organizers, and seem to be more interested in doing the best job possible than applause or personal acclaim for its own sake. This makes them humble and self-effacing at times. Since they are ruled by Mercury, Virgos like to talk, but don't favor idle conversation. They can even be considered shy. Virgos are greatly interested in health and hygiene and are known for preferring to keep clean. Virgos have natural healing abilities which make them great friends and sounding-boards for those they care about. They are good listeners and counselors of the first water, offering the distressed well-considered and practical advice. Virgos also make superbly loyal friends; once you earn his trust, he is your friend indefinitely.

There is an appealing vulnerability about a Virgo, even when he is protesting to the contrary. That springs from the symbolism of the virgin. This does not always refer to the sexual connotation of virginity; this is a deeper sense…a purity of spirit, and an innocence that remains through life, no matter what has happened to him. This inner sense of purity often leads the Virgo to seek the same in his surroundings, giving them the reputation for being obsessed with neatness. Coupled with this purity is an earthy sensuality that manifests itself in a preference for natural fabrics and fibers, a green thumb and a gift for growing things. This earthiness makes the Virgo enjoy being outdoors as nature soothes his often-frazzled nerves and puts him at peace.
Go here to read the whole thing. Thanks to Tabitha for letting me share it here.

(The background on the page makes it difficult to read on some monitors (I had no trouble at home but could barely read it at work) so here is a text file of the information, with Tabitha's permission.)

it wahs | from inside the mind of krix at November 16, 2004 02:28 PM .