heart shaped world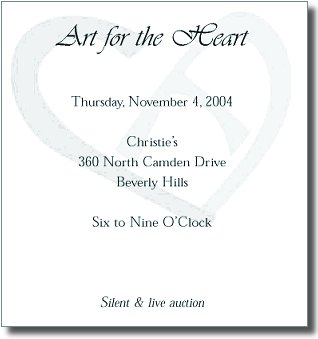 On Thursday, November 4th in Beverly Hills CoachArt.org hosts ART FOR THE HEART - a Silent and Live Auction featuring celebrity co-hosts Lake Bell, Jason Ritter and Marsha Thomason.

Celebrities including Keanu Reeves, Carrie-Anne Moss and Sean Astin will design a total of 50 unique, heart-shaped plates to be fired and finished by Color Me Mine. They will be displayed gallery-style at Christie's. Each item will be auctioned with a donated personal memorabilia piece. The evening will also include cocktails, food, music and celebrity hosts.
CoachArt is a Los Angeles-based non-profit organization that provides free lessons in the arts and athletics for underpriviliged children with life-threatening illnesses. Click here for more details.
To purchase tickets and to get an idea of what the plates will be like you can go to StubHub.com's page on the auction. Several items are available for online bidding, unfortunately Keanu's is not one of them at the moment.

media spot | from inside the mind of krix at October 27, 2004 12:40 PM .