in which my broke ass is mocked by the eBay gods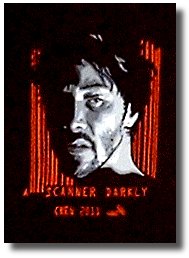 Thanks to those of you who thought of me and my t-shirt collection that emailed and called (!) me to let me know about this totally fucking cool "A Scanner Darkly" t-shirt up on eBay. Along with that, there's also a Constantine camera crew shirt and a ballcap too. Unfortunately, I really can't afford to feed my Substance K addiction this month. I've no budget for frivolousness, I may even have to start buying cheaper vodka.
The horror.
Anyway, let's discuss how awesome the image is in that Scanner shirt, huh?
Keanu's going to make a great Bob Arctor. If the finished film has that kind of detail in the animation, like Nudel, I'm going to be very happy. I'm already thinking ahead to how cool the DVD grabs are going to look. I want to wallpaper my bathroom with them.
I'm still in the process of reading the book. I haven't done any reading at all in the past month or so but I made a big dent in it yesterday in between napping and eating leftover BBQ. I'm determined to finish it by the end of the week. I don't know if it's good or bad that I'm picturing the cast of the movie while I read, but I just can't help it. Especially the parts with Barris. Downey was such a perfect choice.
I can't believe we have to wait a whole year for this film's release...
Oh well, maybe some more crew t-shirts will need a good home by then.
it wahs | from inside the mind of krix at September 07, 2004 11:51 AM .