hotshot on goal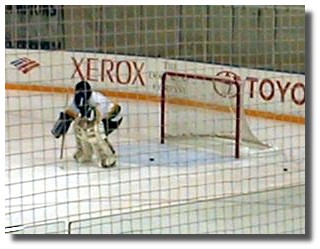 According to the team roster at the Freeze The Disease.org website, Keanu will be playing goal for the Home Team at the CFF charity game on August 8 in Valencia, Ca.
That looks like confirmation to me, however there is an alternate listed so I wouldn't book a pricey flight.
But if you're in the area I really urge you to take the opportunity to see Keanu on the ice. Paulie's playing too, and maybe Michael Vartan will show up this time.
There's no ticket details on the site beyond that there are only 400 seats available and they are nearly sold out, but I've sent an email for info which I'll post when I get it.
-thanks Joy!
it wahs | from inside the mind of krix at July 17, 2004 09:55 AM .