Can we say enthusiastic?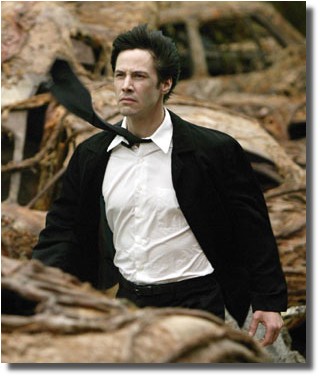 Club-Keanu has another test-screening report from IMDB boards. This one's particularly effluvescent.
Contains slight spoilers, snarks on Keanu and abuse of the !!!! and ???? keys.
The question remains to Hellblazer fans: How true to character is John Constantine in comparison to ! the comic version? FACTS: Not English, Not blond, No accent, Should be about Sting's age, Should not have a Holy shot gun/weapon, setting does not take place in England (Liverpool), No OVERT CUSSING- AND John loves to do that! Chaz should be older and not a side-kick, etc....... Does that about cover it??????

What is captured that holds/remains true to Hellblazer fans out there: John is a HARD-CORE prolific smoker, dark, gothic, loathsome character, guilt-ridden catholic, subtle sexuality in bed, expels demons through exorcisms, travels to hell and back, cunning and saavy with satan who wants his soul sooooooo bad that is willing to personally come up for it, dark, mysterious past paying his debt to eventually save his own soul, and has lung cancer. There are awesome special effects (demons and other hell scenes), Angel Gabriel is androgenous and he/she ought to be. Satan is awesome.

What we do agree on: the title- CONSTANTINE!!!!!! :)

Um...actually, no. Apparently, it's supposed to be ConstanTYNE.
Read the whole thing at Club-Keanu or the IMDB board
constantine | from inside the mind of krix at June 29, 2004 11:51 AM .