Sneek peekers drink the WB kool-aid, piss in comic fans cornflakes
According to SHH and AICN there was a test screening of Constantine over the weekend and some good buzz is coming in.

"Judging this movie as a stand-alone film, it's a thoroughly entertaining, dark, supernatural action-thriller. Keanu reeves rebounds from the MATRIX sequels with a film/character that isn't nearly as bad-ass or ground-breaking as the first installment of Wachowski brothers' trilogy, but certainly delivers some goods. And Francis Lawrence's directorial debut signals the dawn of film-maker's career whom I think is going to fast become an A-lister." -AICN

"The story was absolutely fabulous, it was great." -SHH

"The movie is a trip. And when asked on the questionnaire what scenes I liked the least, I couldn't think of one. There are only two cinematic views of Hell that I've seen that I've ever liked. The one from "What Dreams May Come" and this one. If that's what Hell will be like, thanks but no thanks Satan, I think that party is for someone else. I'll take Heaven. The paranormal and religious themes were heavy and several of them had the audience jumping like I haven't seen since I saw the re-release of "The Exorcist" in theatres a year or so ago. I wouldn't recommend going into the show expecting to see something along the lines of realism such as "The Exorcist", just see it for the thrill of jumping out of your seat a lot. See it for the humor - most every scene involving John Constantine and a demon in the movie is great, filled with sarcasm like I love - , see it for a good ride, a little suspense - a lot of fun, and a Lucifer, played by Peter Stormare (Lev the Russi an Cosmonaut from Armageddon) that is awesome." -AICN

There are some slight spoilers in the AICN reports, and there are a few more details that *shock* dissappoint the Hellblazer fans, but the sneak peekers judged the movie on its own merits and seemed to like it quite a bit, so...you know, yay!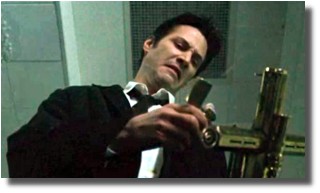 All in all though, this news sounds pretty promising and I'm all popcorn and pom-poms enthusiastic about these first reactions. Especially the good things about Keanu's performance.
constantine | from inside the mind of krix at June 28, 2004 12:04 PM .