That's not a pimple on my chin, that's excitement trying to get out.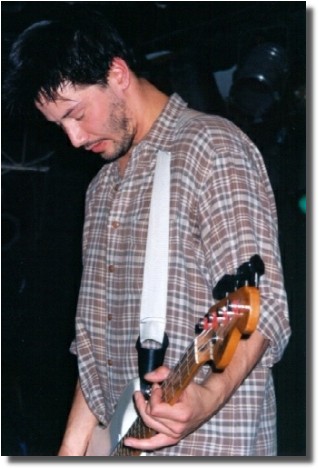 I'm not sure when and where Keanu first played bass for an audience, it may have been in '92 at a club called Raji's in Hollywood. A Dogstar gig that went down in history as where Weezer got it's name. (There's a little geek trivia for you.)
Anyway, I'm sure Keanu wasn't as nervous as I am today. I'm sure he didn't have a home eyebrow plucking incident the night before, giving him a perpetual quizzical look. I'm sure that he didn't lie awake until 1:30, wake up at 5am, and then couldn't go back to sleep until 6:30 and ended up DREAMING ABOUT NOT BEING ABLE TO SLEEP. Gah.
But I'm also sure that once he started playing he went with the moment. He probably put his head down, stood close to his amp and just let the music happen. And that's what I'm going to do tonight. I'm just going to focus on the music and get my bass on.
And hope that no one else fucks up.
I wish you could all be there.
For those that will be: don't bother screaming at me to take off my shirt, either.
Rock on.
it wahs | from inside the mind of krix at June 10, 2004 12:53 PM .