I wonder what the URL for the cologne samples is?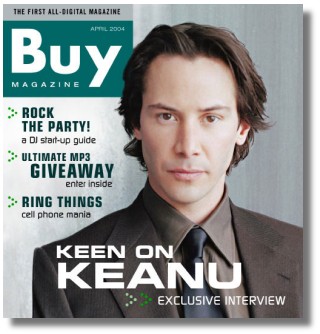 Don't bother looking at your local newstand for it because Buy magazine is the first all-digital magazine.
This month features Keanu in an article/interview. Most of it is nothing new, but I did like this quote...


What does the concept of destiny mean to you?

KR: Destiny is one of those tricky words. It's one of those aspects that's like a particle in a wave. Maybe the wave has a destination but the particle doesn't quite know what the destination is and yet it's making itself a part of that wave.
-Thanks to Joy

media spot | from inside the mind of krix at April 19, 2004 08:00 AM .