keanu's gear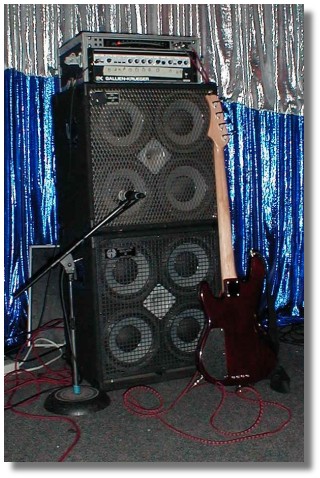 Want to know how to rock like Reeves?
Well, here's Keanu's bass rig config. It's a start.....
Up top, with the red glowy thing, is a rack mounted tuner. After a lucky google image search, I figured out that it's a KORG DTR1.
Beneath that is the heart of the rig, the amp.
Keanu plays through a Gallien-Krueger 800RB head.

"Designed twenty years ago, the 800RB has become a standard of the industry. In an era where most bass amps came in bulky wooden cases, had three knob passive EQ, and weighed a ton, the 800RB stood alone. A 400W Bi-Amp head in a rack mountable metal case, with four bands of active EQ, three voicing filters, and weighing only 23lbs. It was an instant hit! Today it is still the choice of countless players, touring bands, and back line companies, and is the foundation upon which all GK bass amplifiers are built." - Gallien-Krueger.com
If you'll look closely at Keanu's GK 800RB, you'll see that there's a piece of tape below the controls. I'm pretty sure it has his settings written on it.
The Musician's Friend website says: "You can't go wrong with the 800RB, as long as you have some speakers. "
So what speakers does Keanu use?
SWR Workingman's Series 4x10T speakers.
These puppies weigh 97 pounds each and Keanu uses two of them.
They get good reviews at Music123.com and Harmony Central, reliable with great sound and affordable. Even his rumble is humble. You've got to love him.
The GK 800RB has footswitchable boost and that requires....a footswitch!
Reeves uses a Boss FS-5U non-latching footswitch. It's a "momentary"-type switch that only engages the effect when those pigeon-toes are actually standing on it. I'm really going to pay attention at the next show I go to as to when he hits the boost.
If the amp is the heart of the setup, then the bass is its soul.
Keanu's played quite a few basses over the years, including a Fender Precision. These days, his basses are custom made by Dan Ransom of Ransom Guitars in San Fransisco.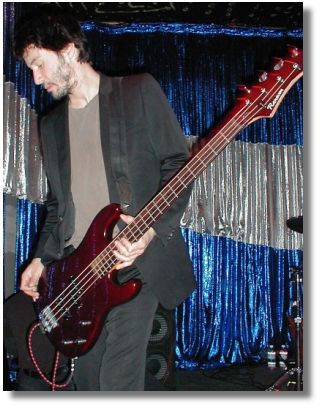 He seems to favor this one recently. I can't blame him. It's gorgeous and has great sound as well. I'd love to hold it almost as much as I'd like to hold him. I've actually dreamt about this bass. Someday, hopefully I'll have my own Ransom.
Now, I'm not ready to go out and invest in this kind of rig for myself yet, but when I do you can be sure I'll be trying some of these components out, especially the GK 800RB. I don't know about those 97 pound speakers, though. I'll need someone strong to carry those for me.
becky | from inside the mind of krix at April 22, 2004 02:50 PM .