god gave rock and roll to you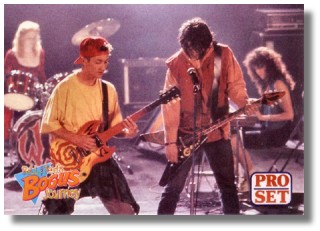 The Telegraph UK recognizes Wyld Stallyns along with Spinal Tap and Almost Famous' Stillwater as one of film's most memorable bands...
Bill S. Preston Esquire (Alex Winter) and Ted "Theodore" Logan (Keanu Reeves) were created by writer Chris Matheson as a withering parody of Californian surfer-cool, but he imbued them with so much charm that they became unlikely screen idols. Their two-man, Van Halen-inspired rock band Wyld Stallyns is the worst in history, bar none.

Only just before the end of Bogus Journey do they actually learn their craft. By this point, they've played "20 questions" in Hell and beaten Death himself at Clue. They end up saving mankind through the sheer power of rock.
it wahs | from inside the mind of krix at January 26, 2004 12:36 PM .