just peachy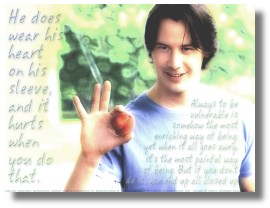 DVDanswers reports that Something's Gotta Give (R1) is due to hit the shelves on March 30. (via keanuweb)
No word on extras, though I imagine there'll be a few. Did "What Women Want" have directors commentary? If so, then I expect SGG will too, along with a "featurette" or something.
I'll be searching for the easter egg that contains Dr. Julian's pager number.
You can pre-order it at amazon.
cinema , doodles | from inside the mind of krix at January 21, 2004 01:20 PM .