feelin' a little gamey?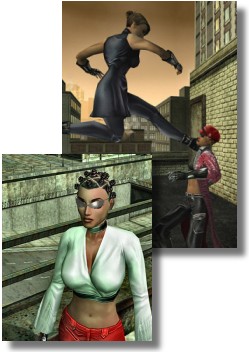 Thanks to Mikey2 for the link to The Matrix Online, the online role playing game based on the world of The Matrix due to be released next year. Looking at the screenshots it seems either they expect a lot of women to be playing, or maybe a lot of teenage gamers just want to see what it's like to kick someone in the neck while having really big boobs.
And speaking of boobs, Pam Anderson and Jenna Jameson are scheduled to appear on Spike TV's Video Game awards tonight, but I don't see Keanu's name there anywhere.
You can tape or TiVO it if you think he might be on, but I think I would have felt a surge of sexy if he'd been in Vegas on Tuesday.
red pill | from inside the mind of krix at December 04, 2003 04:27 PM .