Jet Set
I hate air travel, but I booked a flight today to go to Seattle to see my best friend Eric (the only other person besides Keanu that I would even consider getting on a plane for) over Thanksgiving. And I'm not even going to be a wussy girl about the flying aka "being in a big metal thing that really is too heavy to be in the sky and my god was that bourbon on the pilot's breath? and wait a minute! you didn't check my shoes for bombs, did you check everyone elses? I'm not getting on the plane until you check my shoes! Augh!"
Ahem....oh, sorry.
Because once again, Keanu is an inspiration for living my life better. He has been fearlessly flying around the world to attend Revolutions premieres. And I bet he doesn't even flinch during takeoff....unlike me.
I believe he's in Japan today.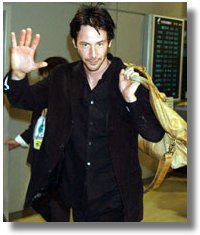 And before that, Sydney.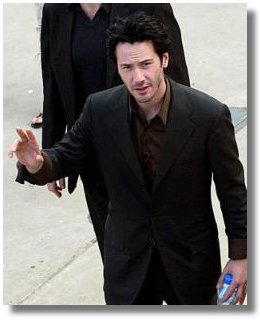 Look! How cute when he waves!
Hi Baby! I miss you! Come home safe and sound soon!
I know that it's part of the job, and might even look glamorous to some, but can you imagine flying around the world in just a few days? It must get to be quite a blur after a while, between jet lag and the press, asking mostly the same questions wherever you go. And I can't even fathom what it must be like to deal with scenes like this.
It's yet another reason why I love and admire him so much.
it wahs | from inside the mind of krix at November 03, 2003 04:00 PM .