cosmofusion
Well, I never got around to typing up the cosmo interview, as I was up until 3am reading comic books, but Club-Keanu comes through as usual.
If you're having trouble finding the mag, here's a tip.
Keanu is not on the cover, he's on the start page of the CosmoMen insert section.
Some girl in a really cute top and white jeans after Labor Day is on the cover.
Here's a visual aid.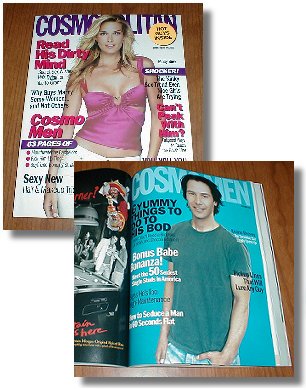 Hope that helps those going out to shop for this.
If you need, just remember the "READ HIS DIRTY MIND" at the top of the cover.
'nite.
it wahs | from inside the mind of krix at October 12, 2003 10:07 PM .