sometimes we have to make our own fun
So, Keanu totally blew it last night and missed out on meeting the loverly jozjozjoz and getting to hold a "Hi" sign for me. Maybe he'll get lucky next time.
However, though the miracle of digital photography we can experience just what it was like to be there.
In the parking lot outside the Orlando Jones Show.
Apparently, Joz and Professor Eric could hear the music coming right through the walls as they walked to the car.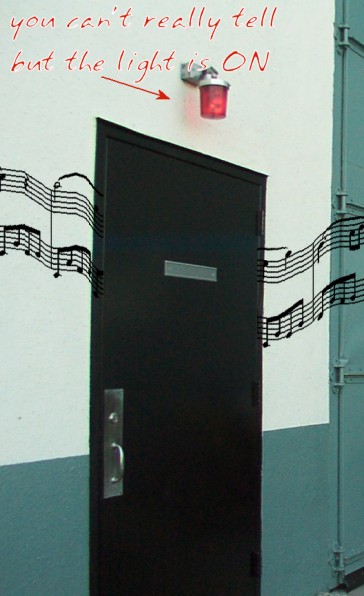 I embellished the photo so you can SEE the music, so clever I am!
See that red light, that means they're taping at that very moment. It's a moment captured!
Other guests on the show were some fancy motorcycle trick rider dudes (who are allowed to just park anywhere they want, it looks like).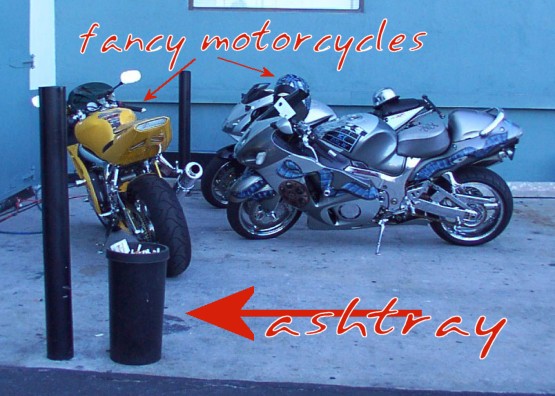 You KNOW that Keanu talked to the motorcycle guys about these very bikes!
And look, right there's an ashtray with the snuffed out butts of people who just may be inside watching becky play. Maybe even one of Keanu's half smoked Marlboros? Who knows? This is Hollywood, babies. Anything is possible.
But I was promised a "Hi" sign and Joz always comes through.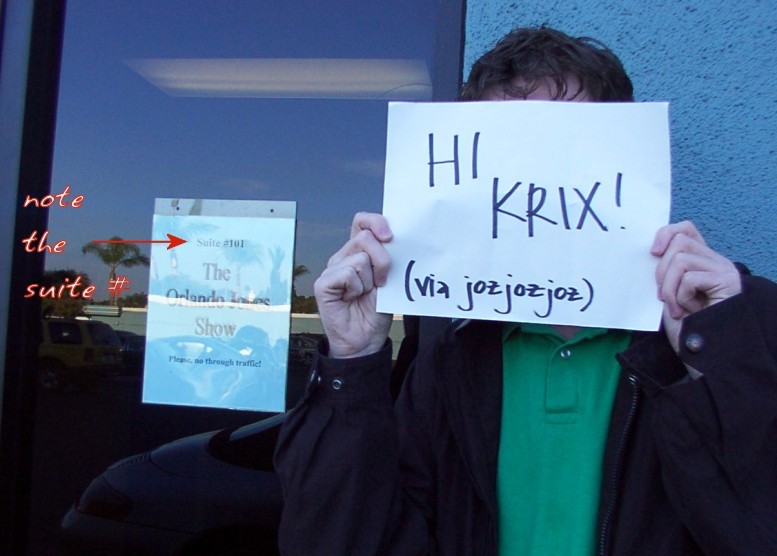 This is the mysterious and wonderful Professor Eric,
the man that started this whole escapade by spotting Keanu on Wednesday outside the Sharon Osbourne studio and calling Joz
.
Hi yourself, Professor Eric! Thank you for thinking of me!!! And thank you, Joz!!!
It was just like I was really right nearby in the general area there! *smoooch*
So there you have it.
A brush with a brush with the parking lot of greatness.
I'm all tingly inside.
it wahs | from inside the mind of krix at August 29, 2003 03:09 PM .