Faux Ass Friday?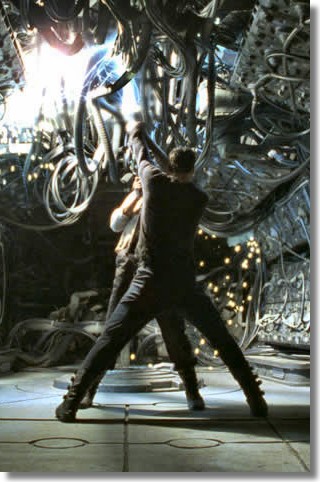 Today's pic is from the upcoming Matrix Revolutions, and it's of Neo going mano a mano (with a spark spewing whatsit) with someone, probably Bane.
But(t), is it Keanu?
Someone wrote to me earlier this week asking if I thought any of the screen grab AF shots were actually of his double. It had actually never occured to me that they would use doubles for shots of simply walking away. What kind of insane director would use a lesser ass when he has the gold standard of assery right there?
I have to say that after a year of selecting and posting Ass Friday pictures, I feel confident that I can tell the real thing or not. And I fully believe that every single Ass on every single Friday has belonged to Mr. Reeves.
Until now.
This pic makes me question my own abilities.
The feet look right.....or do they?
And if it's not Keanu, who is it?
Chad Stahelski most likely.
He has doubled Keanu as Neo in all three of the Matrix films, and he's a hunkamuffin in his own right. A lot of the serious stunt work we are creaming over on screen in The Matrix movies is actually Chad and if anyone deserves to stand in and give Keanu a friday off, it's him.
Not that I'm sure that it is, but it might be.
spoony | from inside the mind of krix at August 29, 2003 10:47 AM .