swear t' god
I just heard Rob Dougan's Chateau from the Reloaded soundtrack on a PBS promo for National Geographic. It's always weird to have things so familiar show up out of context. I still want to kill whoever greenlighted my beloved Spybreak for a local car dealership commercial.
And speaking of car commercials, has anyone else had their local Toyota dealer acting out Reloaded scenes to hawk the Matrix automobile?
Vegas does, and it SO SUCKS. Oh my god, it's just wrong.

Oh look, new wallpaper.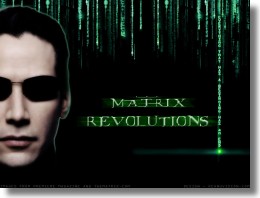 I'm craving a Powerade.
doodles , it wahs , red pill | from inside the mind of krix at August 23, 2003 10:37 AM .