Our Little Revolutionary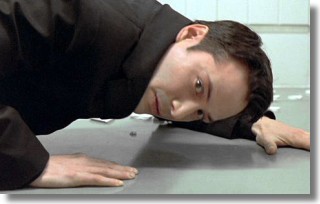 I've been slack this past week on red pill newsbits so let's play catch up...
OK, 75 days until The Matrix Revolutions. Eeeeee!
I downloaded the newest trailer from the official site last night along with some new Revolutions stills and I'm starting to get all excited again. I should probably do a wallpaper.
It's been reported that Warner is reportedly considering withholding Reloaded from Oscar consideration so that Academy voters can focus on Revolutions.
This seems like a smart move-not splitting the vote (hear that Californians?), and indicates that Revolutions will be the better of the two movies. NOT that I didn't like Reloaded, because you know I did. It was a middle movie and all the whiners can bite me. The only thing I would bitch about is the choice of music during the Burly Brawl, because damn, that sucked.
Anyway, Revolutions shall kick ass. Here's a little blurb at Coming Soon that may be the beginning of the hype. Yeah, Joel...I'm looking at you (call me).
You know, I fully admit at this point, I have no idea what the Matrix is, or what's going to happen in the final movie. So many theories. Not enough brain.
Once again, I find myself caught between craving information and caving into spoilers. Of course there is enough non-spoiler speculation to keep one's mind busy for years to come at various sites, my favorite being Matrix Essays.
One other note. Eric Furze, the author of the brilliant piece I posted a while back, contacted me to let me know that it was actually a rough draft and that the final complete version of The Matrix: Reloaded - Jesus, Buddha, and Gödel: Unraveling the Matrix Mythos can be found here, at metaphilm.com.

red pill | from inside the mind of krix at August 21, 2003 02:29 PM .