tune in
So I guess ET will be showing the trailer from the Meyers film tonight...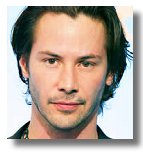 Keanu Gives It Up!
August 15, 2003
Taking a break from his 'Matrix' duties, KEANU REEVES is teaming up with screen legends JACK NICHOLSON and DIANE KEATON for the romantic comedy 'Something's Gotta Give,' coming to theaters this December. Tonight on ET, we have your exclusive first look at the hilarious new trailer!
In the new comedy, Nicholson plays Harry Sanborn, an aging playboy with a libido much younger than his years. During a romantic weekend with his latest conquest, Marin (AMANDA PEET of 'The Whole Nine Yards'), at her mother's Hamptons beach house, Harry has chest pains. Marin's divorced mother, Erica (Keaton), reluctantly cares for Harry, and in the process he develops romantic feelings for the more age-appropriate woman.
But while Harry struggles to change his old habits, his charming, 30-something doctor (Reeves) steps in and begins to pursue Erica! Now Harry, who has always had the world on a string, finds his life unraveling.
Also starring FRANCES McDORMAND and JON FAVREAU and directed by NANCY MEYERS ('What Women Want'), 'Something's Gotta Give' gives in to audiences everywhere December 12.
--
Thanks to Club-Keanu for the heads-up, and actually you should head over there to check out some pics from an Oregon news story about Keanu being typically cool and cordial with some fans.

cinema , media spot | from inside the mind of krix at August 15, 2003 10:38 AM .