baby's got a brand new doll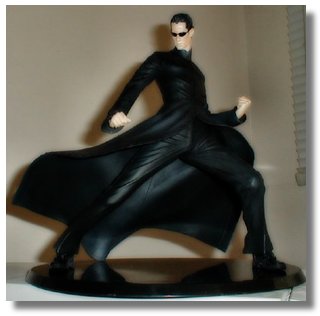 He's tall and lithe and very sexy. I knew I wanted a new figure from Reloaded, but couldn't really decide. When I saw the finished version of this one I fell in love with it, even though I snarked on the prototype in this entry.
Reloaded Neo was sculpted by Shunji Hagii, and has no movable parts. He was procured from victorshop.com. You can check his auctions (there was another available at the time of posting).
I LUFF new Reloaded Neo.
however...

The boys aren't taking it like The One, at all.
Dojo is beside himself and sighs loudly between sobs.
Lobby is simply PISSED and offers little or no consolation.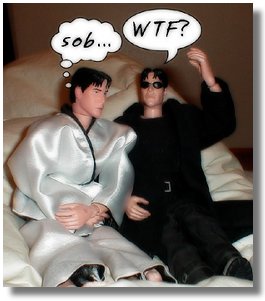 I tried to call Lobby out on the fact that "This is Bullshit!" is actually a Reloaded line, but he just gave me the finger and stomped back to the stereo, put on some TOOL and ignored me for the rest of the evening.
Hopefully at some point they will learn to live together in harmony.

red pill | from inside the mind of krix at August 08, 2003 12:39 PM .