You got your Brezsny on my wallpaper...
Like chocolate and peanut butter, this week's freewillastrology horoscope seems to go quite nicely with this new wallpaper.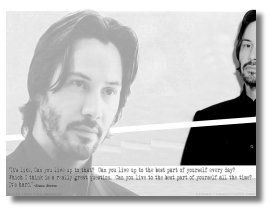 VIRGO (Aug. 23-Sept. 22): I predict you will be in a hearty, even triumphant mood in the coming week, Virgo. There'll be few if any loose ends. Unfinished business will either complete itself or else reveal to you how to wrap it up simply and quickly. However, even if you have to pass through a moment or two of dark doubt, it's essential that you stay committed to your mood of hearty triumph. Please write down this poem from Tony Hoagland and carry it around in your wallet: "No matter how you feel, you have to act like you are very popular with yourself; very relaxed and purposeful, very unconfused and not like you are walking through the sunshine singing in chains."
doodles | from inside the mind of krix at July 16, 2003 10:51 AM .