more on Paris, this time with a picture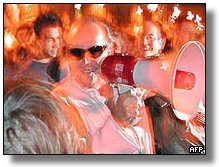 Actor Jack Nicholson voiced his support for striking French actors as they interrupted his film shoot on location in Paris.
Nicholson was filming on a bridge over the river Seine when protestors walked on to the set and refused to leave, police said.
Nicholson, in his trademark dark glasses, picked up a loudhailer to address the group and ask what the problem was.
Told that artists' rights were threatened, he said in broken French: "The struggle continues!"
After discussions with the protesters, the production crew decided to pack it in for the night, police said.
Nicholson is in the apparently un-named movie alongside Diane Keaton and Keanu Reeves.
The actors and other arts workers are protesting over government plans to change arts workers' unemployment benefits.
The dispute has already caused the cancellation of a string of events across the country.
France's three-week Avignon arts festival was abandoned and a sister event in nearby Aix-en-Provence has also been scrapped.
On Wednesday, Culture Minister Jean-Jacques Aillagon described the actors as "irresponsible" as the government vowed to press on with the benefit cuts.
--------
[google news search on the strike]
cinema | from inside the mind of krix at July 10, 2003 08:14 AM .