Tongue lashing
--This post is dedicated to skits, thank you for upgrading me!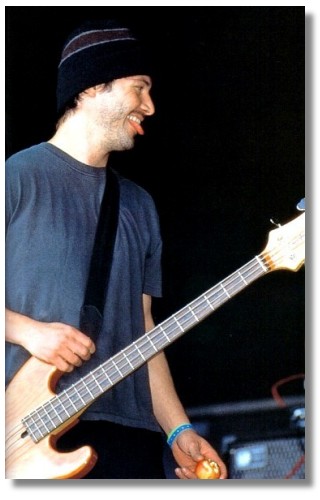 A bit back, Margarete of POTD sent out this little piece from a Scottish newspaper back in '96 along with a picture*...
Keanu Reeves caused a panic when his group Dogstar played the NME Stage in 1996. We couldn't find him - he'd decided to travel to the site at Strathclyde Park on a bus from Glasgow. He wanted to get away from the whole star trip and mix with the fans. I got a call from security saying: "We've got a guy here who says he's Keanu Reeves." I went down to the gate to check it out - and it was him.

Then the caterers forgot to include a bottle of Jack Daniels in Dogstar's dressing room. The group had a pre-show ritual where they'd stand in a circle, take a swig of Jack Daniels and toast to a good gig. Keanu asked for some Scotch whisky instead so I got them a bottle of 17- year-old Ardbeg malt. They tried to down it in one but it was so strong they spat it back out.
I hear Reeves drinks The Macallan these days.
I can't handle my Scotch. Last time I drank Scotch, I think I went to a soon-to-be-ex-boyfriend's doorstep with all the cassettes he ever made me and sat there pulling the tape out of each until he came home with some girl. I think her name was Heather. I've never met a Heather that didn't try to fuck my boyfriend so even if her name wasn't Heather she was a Heather.
No offense to any Heathers by name that might be reading. Just stay away from my boyfriends.
I think I may have made a scene. I really can't recall.
I do know I swore off both Scotch and men for a while.
*I'm including a different picture because I'm not sure if the tennis ball is photoshopped in or not, but either way, it makes me wince.
dogstar rocks | from inside the mind of krix at July 10, 2003 10:40 AM .