Holding back the facial hair snark is HARD!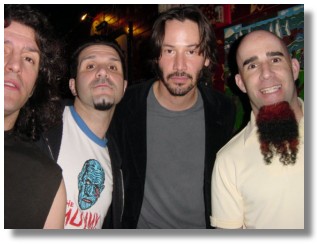 Rawk!
Keanu hung with Anthrax last week at a concert. Thanks to Margarete and POTD for the news and picture.
I want a cigarette SO BAD.
I'm frantically trying to swing this LA trip. I totally can't afford this, but I really need to get out of town. Time off is secured, it's down to who's going with me and where we will stay. Thank god for bloggers and their couches.
Eeeeeeeee!

it wahs | from inside the mind of krix at June 04, 2003 11:57 AM .