jejune?
Let's hope not.
Anyway, yes we're back and it's time to play a little catch up.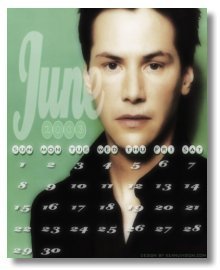 The June calendar is up, I'd like to dedicate it to my music guru, Rhonda , for the killer mix CDs. And to Kat, thank you for the book and Happy Birthday to Sebastian!
Japanese fans report that Keanu and the rest of the Matrix cast departed a few days ago. I imagine he might be back in LA by now, back to work (presenting at the MTV movie awards according to Club-Keanu and ET) and getting ready for the becky gig this saturday.
Yep, you heard me. June 7, becky is playing a benefit show at The Musicians Institute with Suburban Legends. Info is on the becky site.
It's an all ages show. So bring the kids!
Keanu got a nice nod from William Gibson for his generosity with his Matrix monies.
That story was splashed around everywhere last week, and while it wasn't new or suprising to any of us fans, it was a nice to see the regard.
I think I'm well enough to not bother the rest of the theater with my sniffling and sneezing, so I may actually get around to seeing Reloaded again today.
On Friday night I was reading various Matrix blogs and boards, and at one point I think I might have actually had it all fall into place. But then I fell asleep and got kissed by DreamKeanu so I woke up as confused as ever.
I'm just not as geeky as I wanna be.
I do think Neo's gone wireless, though.

it wahs | from inside the mind of krix at June 01, 2003 09:26 AM .