now all we need is the CD to go in it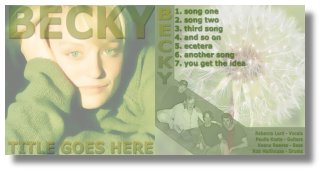 This pic is the front and back cover design I made to submit for consideration for use on their (hopefully soon) upcoming becky demo CD. Paulie, becky's guitarist, made the request to the beckyband egroup to submit designs. After I did this one, the outline of what was wanted was made clearer and more specific (what they ultimately wanted was more of a logo, no photographs) so this one not only didn't make the cut, it never got to the audition. But I thought it turned out nice so I wanted to show it off.
All of the submissions that were sent in from becky fans are now displayed on the beckyband.com page.
Yes, there's a few of mine in there, but I won't tell you which ones.
Go check them all out, lots of talented fans out there.
Oh! And the dandelion image is one of Jon Sullivan's photographs.

becky | from inside the mind of krix at May 29, 2003 07:07 PM .