If my car were like Keanu, it would be more beautiful because of its flaws....feh, I'm still calling the insurance company.
Funny thing happened on the way to pick up Roi for dinner last night...I got freaking rear-ended at a stop light. I'm fine and the damage is minimal, mostly just the imprints of the screws of the guy's license plate and a bit of a scrape, but since the Station Wagon is barely two months old, so it WILL be claimed and repaired. He also said that right before he kissed my bumper with his front end, he was looking at my license plate, and mentioned that he just saw Reloaded Tuesday night.
It's too bad I was thisclose to wrapping my fingers around his throat for hitting me, as we could have dated.
I think I will probably go see the movie again tonight. I've done a lot of reading the past few days, so it will be interesting to view it again with some new knowledge.
I know that the reactions around have been pretty mixed. You'll never see me say anything bad about this movie, the cast or the Wachowskis, though.
Like they need a fan griping and nitpicking when they've apparently got their hands full. What, with post-production on Revolutions and pissing off not only the Republicans, but the albino community as well.
Of course, Keanu has been handling the promo tour with class.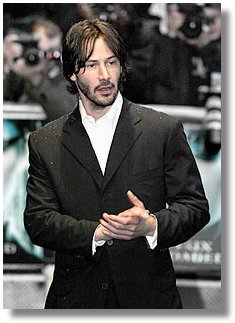 "Wearing a black suit and white shirt he withstood the pouring rain, walking from fan to fan to sign autographs and pose for photographs.

The star, who ploughed a lot of his own money into the film, spent 30 minutes rewarding those who had waited so long, and later said: 'I wish I could have stayed out longer.

'It's absolutely fantastic,' he continued. 'It's extraordinary.

'Some people have been really anxious for this film to come out and I just hope it lives up to their expectations.

'I've loved making the film and I just hope that it brings as much enjoyment to those who watch it.' "
It does baby, it so does.

it wahs , media spot , red pill | from inside the mind of krix at May 22, 2003 11:44 AM .