Where do I begin?
Thank you all for the welcome back messages. Now to play a bit of catch-up....
I found out that indeed, there are some showings of Reloaded at 10 PM on the 14th here, So I am planning to catch that show as well as the 10 AM show on the 15th. At least that's the plan, as Fandango hates me today and keeps spitting out "so sorry, come back later" messages. Bastards.
Keanu was adorable on Entertainment Tonight (click that link, there's a video clip) last night. I missed it in the evening, but some mysterious force woke me up at two AM and rather than question it, I turned on the TV and yep, there he was all funny and charming and....well, it was hard to get back to sleep after.
The lovely Zion has posted some screen grabs from the segment over at Reeves Drive MB. (via club-keanu)
ComingSoon.net has a big gallery of Reloaded stills, most we have already seen, but some we have not. I really dig the first one (of him in front of the screens) and am going to try and figure out how to do a wallpaper of it, I think.
Oh, and the May Calendar is up.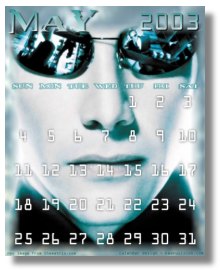 media spot , red pill , the site | from inside the mind of krix at May 01, 2003 12:10 PM .