Ahem...
And another auction, thanks to Shell from DSF: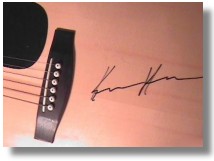 Once you get past THE GIANT FONT IN THE AUCTION DESCRIPTION, you'll notice that the sig would actually be upside down when you played it.
Not that you'd want to play it, since it's a ninety-nine dollar guitar with Keanu's signature, so it's basically just a really awkward-to-carry autograph.
it wahs | from inside the mind of krix at April 02, 2003 02:31 PM .