The Doctor Is In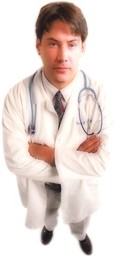 So, educated guessers are figuring that Keanu is currently working in L.A. on the "Untitled Nancy Meyers Project". At least this little blurb from this article about Jack would indicate that filming is underway:

"Nicholson, who is currently shooting a Nancy Meyers-directed comedy about a music mogul who falls for his girlfriend's mother, declined interview requests after the nominations."
ComingSoon.net has a fairly decent synopsis of the whole thing, including this plot summary:

"Academy AwardŽ winners Jack Nicholson and Diane Keaton star in a sparkling and sophisticated romantic comedy from acclaimed writer/director Nancy Meyers ("What Women Want," "Father of the Bride") which proves that in matters of the heart, sometimes you can teach an old playboy new tricks. Harry Langer (Nicholson) is a hip-hop music mogul with a libido much younger than his years. He has the world on a string -- and a string of beautiful young girlfriends to prove it. During a romantic rendezvous with his newest girlfriend, Marin, at her mother's Hamptons beach house, Harry's develops chest pains and eventually winds up being nursed by Marin's reluctant mother, Erica Barry (Keaton) -- a successful, divorced New York playwright. In the process, Harry develops more heart pangs - the romantic kind - for Erica, a woman who is right for him in every way. However, some habits die hard, and when Harry hesitates to pursue Erica, his charming thirtysomething doctor becomes smitten with her. Harry undergoes a true change of heart when he fights to win Erica back.
The "thirtysomething doctor" is the role that Keanu has been cast in.
I'm not really familiar with Ms. Meyers work. Basically I'd rather lick a nine-volt battery than watch "What Women Want". I think I may have been exposed to the remake of "Parent Trap" at some point when I was sick in bed and couldn't find the remote.
So of the three films that Mr. Reeves will be (reportedly) working on this year, I'm least excited about this one. But who knows, I was sure I was going to hate Hardball and was happily proven wrong...
One thing that fugs the buck outta me is the whole "Untitled Nancy Meyers Project" thing.
How hard can it be to title a movie?
Hospitality Suite?
The Doctor, His Patient, His Wife, Her Mother?
Hearts of the Affair? (I actually fear that it will be some lame play on words like this)
Jack is going play a hip-hop music mogul? OH! the possibilties....
Doctah Playah Hatah, anyone?
OK, that one sucks.
I guess we will just have to wait and see.
I am happy that Keanu is getting to work with Jack. And Frances McDormand, too. I love her.
cinema | from inside the mind of krix at February 18, 2003 01:05 PM .