EAT ME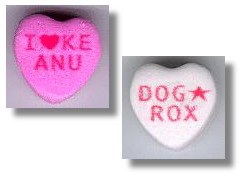 This cool little graphics toy over at ACME.com lets you make your own conversation hearts. Better than eating the nasty little chalky bastards.
Yes, I totally changed the time stamp so the Neo song could remain at the top of the page. I can do that.
Neener...
off topic | from inside the mind of krix at February 12, 2003 06:29 AM .