When all else fails, make wallpaper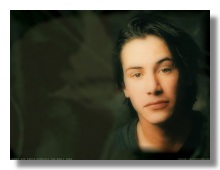 This is absolutely one of my all time favorite pictures of Keanu. I have had several versions of it as my personal wallpaper, including one in black and white with the brown eyes like in the banner pic (but his full face).
Thank you to Elsinore for the wonderful scan of this Sunny Bak photo.
doodles | from inside the mind of krix at February 11, 2003 03:03 PM .